About the group
Our product range ensures the best possible solution for our customers with regard to quality and production optimization. The composition of our product portfolio enables us to provide stand-alone as well as complete solutions, which match customers' expectations for capacity and quality.
SAXE GROUP is not just a machine supplier. Our competent and experienced employees ensure that we can offer optimal consulting and project planning throughout the entire project. To us, the delivery of machinery is only a part of a project. Based on customers' needs, we customize the solution. Our commitment to the customer's project ensures optimal technology and solutions on time.
Project management from concept, to validated production facilities is a key competence in the group. Integration of equipment into small as well as large production facilities. For general contracts where we are responsible for the delivery of equipment and attend to the overall coordinating of all suppliers to the project.
SAXE GROUP consists of four companies, located in Denmark, Norway and Sweden. All companies has their core competences, but are able to supply management and service for all group activities. The strength of this construction is to be able to deliver all pieces that makes up the puzzle, which is the only important picture for the customer.
Philosophy and Mission:
For more information, please take a look at our brochures and company video:
INTERACTIVE BROCHURE
Look at our interactive brochure and read about our history and mission as well as our competencies.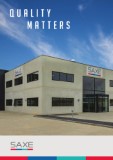 PROFILE BROCHURE
Download our company presentation brochure and read about our history and mission as well as our competencies.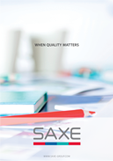 SERVICE BROCHURE
Download our service presentation brochure and read about our service concepts.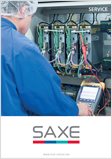 CALIBRATION BROCHURE
Download our calibration presentation brochure and read about our calibration services and concepts, as well as our measuring capabilities.