From Männer family: Barnes Group Inc. Completes Acquisition of FOBOHA Operations in Germany and Switzerland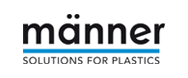 Barnes Group, founded in 1857, is an international industrial and aerospace manufacturer and service provider with a rich history of providing superior and innovative precision products and solutions to a wide range of end markets and customers. Barnes Group owns FOBOHA, Synventive Molding Solutions, the Männer Group, Thermoplay, and Priamus System Technologies – these businesses are global leaders in the plastic injection molding industry.
Moving forward, FOBOHA will be integrated and function as a business within Barnes Group's Molding Solutions Strategic Business Unit (part of the Industrial segment). FOBOHA will continue to go-to-market as FOBOHA
Combined capacities in engineering, manufacturing, and validation of FOBOHA and Männer make large projects feasible in a short timeframe.
FOBOHA and Männer will leverage the global footprint with manufacturing locations in Europe, US, and China to provide competent service, maintenance, repair and overhaul locally.
Best-in-class mold technology, such as cube molds and in mold automation from FOBOHA, come together with highest precision and repeatability of Männer molds and hot runners.
You can learn more about Barnes Group by visiting www.bginc.com.